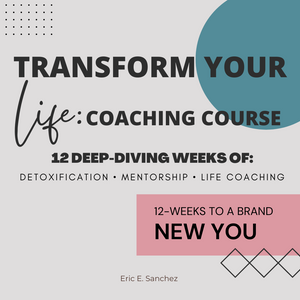 With the 12-Week Transform Your Life Mentorship Coaching program, we are going to dig deeply into all of the major aspects of your life - Mind, Body, and Soul.
Physical freedom is your birthright. Mental freedom is, too. Let's ascend your life together.

I have spent my entire career emphasizing the importance of a FULL holistic approach to healing. Detoxification of the body is only step one.
It is my true belief that those who are seeking real success in the realm of detoxification need to put just as much effort (if not, more) on the emotional aspects of healing (mind & soul). The mind & soul are the pre-requisite to true healing - they are what unlock your body's deepest potential. 
__________________________________________________

More about the Transform Your Life process:
The secret to living a beautifully satisfying life is learning how to master yourself - not your symptoms.

Q: "Is this a Detoxification course?"

A: Yes, absolutely- and so much more.

The MIND, the BODY, AND the SOUL are what we will be transforming via this live coaching course.

This is by far the deepest and most intimate mentorship I offer. We will be building a relationship based on the highest vision you have for yourself.

I put my heart, soul, and entire holistic career into every single aspect of this course. 

This is a program for those who are 1000% committed to their transformation. For people who have "had enough" with how they're feeling and are no longer on the "fence" about wanting to heal - they know that they want to evolve with every fiber of their being.

The evolution you achieve by Week 12 of the Transform Your Life process is priceless. This process sets you up for success not only in physical health, but in all aspects of your life (self-worth, career, relationships, and more).

This program is the definition of "Investing In Your Transformation".

When creating this program, I viewed it similarly to how I view the investment I made at the very beginning of my own healing journey when it began years ago - This is essentially like "paying internal rent" and "investing in yourself" now so that you can then be catapulted towards your vision of a boldly satisfying life.

__________________________________________________

What we'll cover...
*Because every individual's journey is unique, the topics we cover will be tailored to your specific wants, goals, and needs. Some of these will include:
Self-confidence and its many layers - what is it and why is it imperative to your life

How to improve your self-confidence. And no, I won't ask you to look in a mirror and tell yourself you're beautiful

Fear

Daily Accountability

Food addiction & co addictions

Integrity - showing up for yourself and the closest people to you via your health. Doing and completing something when you say you're going to do it.

How to develop deep self-compassion

Your limiting beliefs and how they're contributing to your health ailments.

Motivation - no warm and fuzzy quotes about hustling and "the grind" because that shit is trite and useless

Relationships - friends, family and boundaries

Habits that lead to success

Worksheets. Working on yourself means a lot of self-reflection. You can't fix a problem you don't know exists :)

Selfwork. Each week will be dedicated to something specific I'd like you to work on, so you'll need to step outside your comfort zone.
__________________________________________________
What you get:

Biweekly 1-Hour Sessions with me.
Unlimited Voice Messaging, Text Messaging, and Photo Messaging to my direct line for the entire duration of the course - We will talk whenever you need me (& I'll check up on you even if you don't currently feel you need help).
Everything that comes with the Master Healing Program - An In-Depth Health Assessment, Iridology Analysis Report, Diet Plan, Herbal Protocol, and more.
Foundational Fieldwork Process - This fieldwork will set the foundation for your transformation. This is going to allow us to dig deeply into all of the layers within your current mentality. Why are you committed to this transformation? What is at stake if you don't do it? And so, so much more.
Homework - Work that will keep you learning, thinking, and will hold you accountable. We can review this work during our sessions.
A guarantee - If you follow each one of my guidance suggestions to the T and do your homework, your body, mind, and soul will be in a completely evolved state by the time you reach week 12.
__________________________________________________

Be open to the work, see and feel the results:
I want to reiterate: This is a program only for those who are 1000% committed to their transformation. This is for those who are willing and wanting to do the work.

Because it is important for me to show up fully for each person within this program, I will only accept a limited number of students at a time. If the program is still available for purchase, I have at least one opening available.

This is for those who are seeking close 1-on-1 intimate mentorship. If you are on the fence about this, please take your time and truly think about it. But if you are feeling deeply called to this healing process, I will be more than happy to guide you through your transformation.
__________________________________________________
How it works:
After your purchase, please send me an email via the CONTACT page with your full name and phone number.

I will be in contact with forms & directions within 12 hours. We will also set up our first session and get the process started.